Until now, Ferrari have used the GTO badge two very special times. The first was in 1962 with the 250 GTO of which only 38 were made. One of today's most rare and valuable classic cars with prices surpassing 13 million dollars. The second time they used this iconic badge was in 1984 with the 288 GTO (or simply: the GTO) of which they produced 272 of an originally planned 200 units. Once again, the 288 GTO was the fastest, most advanced and prettiest road going Ferrari of its time with a very distinctive pure dose of muscle.
Today, Ferrari is pulling out the GTO badge from the tray again to do what it does best: the fastest and most advanced road going Ferrari ever. And it did. In fact, the newest GTO has officially outpaced the almighty Enzo with a stunning 1min24 seconds round the Fiorano test track.
The 599
Gran Turismo Omologata
as its name suggests, is nothing but the road homologated version of the
599XX
experimental track car. It has the same 65-degree V12 engine you can find in the 599XX that now produces 670 Hp after the necessary modifications for road homologation.
The 599 GTO went under a diet to loose 84 Kg (184lb) compared to the 599 GTB with a dry weight of 1495 Kg (3,295.9lb). This weight saving have been achived essentially by replacing several body parts with carbon fiber. I have to admit that i am a little bit disappointed knowing that the previous GTO has a dry weight of 1160 kg (2557lb). However, this gives the car a weight to power ratio of 2.23kg/Hp. The result is a 0 to 100 km/h (0 - 62 mph) time of 3.35 seconds and a top speed of over 335 km/h (208 mph).
What makes the 599 GTO so fast round the track is one of the most advanced chassis ever put on a production car according to Ferrari:
"The result is the almost complete absence of understeer and a truly communicative chassis"
. It has also underwent significant aerodynamic enhancements that allow the car have a down force of 144 Kilograms at 200 km/h. The replaced body parts also give the GTO a more distinctive look from the standard 599 GTB.
The GTO incorporates Ferrari's most advanced technological solutions developped on the track like the virtual race engineer, a system that allows the driver to evaluate the car's performance while driving.
The latest GTO will be nearly as rare as its predecessors with only 599 units planned for production but you can still enjoy building your own GTO on the
online configurator
.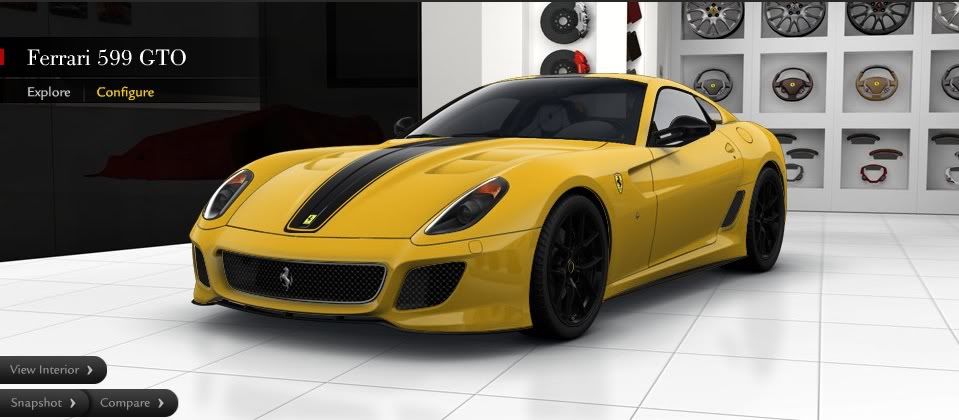 [Source: Ferrari]