Photo credits:

The Speedhunters
This car does not have an "engine", if you're paying enough attention to the blog's name. But it certainly is one scary beast and it deserves to be talked about. Its name is the Buckeye Bullet 2.5 and it has reached an average top speed of 495 Km/h (307.7 mph) at the Bonneville Salt Flats earlier this week, which means it simply has established the new Land Speed Record for an Electric Car. However, the record is still pending certification from the FIA. Just a formality since the developpement team has already validated other records with previous versions of this car.
This very aerodynamic record setting vehicle is developped by a student run team that is based out of the Center for Automotive Research at The Ohio State University and it's powered by Lithium-ion batteries coming from the Team's new partner and famous electric car maker Venturi.
[source:
Buckeye bullet blog
]
You might be wondering about the Land Speed Record for a non electric car. I'm going to help you save some time on this: It's held by the British Royal Airforce Fighter pilot Andy Green on the Wheels of the ThrustSSC. The vehicule is powered by two Rolls-Royce Spey turbofan engines which develop altogether a scary 110,000 Hp. The Jet Powered car reached a top speed of 763.035 mph (1227.99 km/h) which is also the first supersonic record (Mach 1.016). The record has been set on October 15, 1997 at the Black Rock Desert, USA.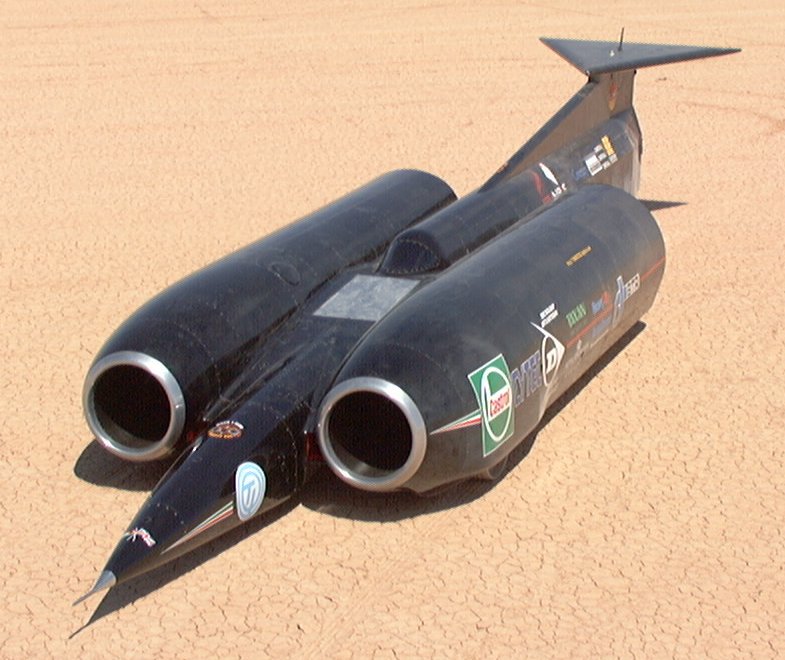 [source: thrustssc.com]
Willing to go further with this concept, i was to trying to find the fastest rail vehicule in the world and i was surprised to find out that the fastest rail vehicule wasn't actually a train but a test platform propelled by rockets. Yes, rockets. The record has been achieved at the Holloman Air Force Base on April 30, 2003 and the platform has reached the mind blowing speed of 10,325 km/h (6,416 mph). That's 8.5 times the speed of sound. That's nearly 2.86 kilometers (1.78 miles) per second.
It is mentioned as the land speed record on the U.S. Army website but maybe you can just call it "Speed Record for Something That Still Touches Something Fixed to the Ground without flying" and maybe one day there will be the "Speed Record for Something That Still Touches Something Fixed to the Ground without Flying and using nothing but Electricity". I'm starting to get ridiculous. At least i hope that this post was informative for you.
[source:
U.S. Army
]
The moral of the story is that electric cars are still more than half a century behind gas powered cars...